Historic Tulare Lake back to life after nearly a century, California
Once the largest freshwater lake west of the Mississippi River, Tulare Lake in California's San Joaquin Valley has reemerged due to heavy rains and snow in the first three months of 2023.
By 1920, the rivers feeding Tulare Lake were dammed and diverted for purposes like irrigation, transforming the lakebed into fertile agricultural land. This area became a significant part of the Central Valley's agricultural industry, with farms cultivating cotton, tomatoes, dairy, safflower, pistachios, wheat, and almonds.
However, a series of powerful atmospheric rivers since the beginning of the year has caused the lake to reemerge, resulting in flooded homes and road closures in Corcoran, the largest city near the historic lake.
Towards the end of March, smaller towns to the south, Allensworth and Alpaugh, faced evacuation warnings as overflowing rivers engulfed them.
The Landsat 8 satellite's Operational Land Imager (OLI) captured images on March 29, 2023, showing agricultural fields near Corcoran covered with water.
In comparison, images from Landsat 9's Operational Land Imager-2 (OLI) taken in March 2022 reveal a stark contrast. The false-color images make the water appear dark blue, vegetation green, and bare ground brown.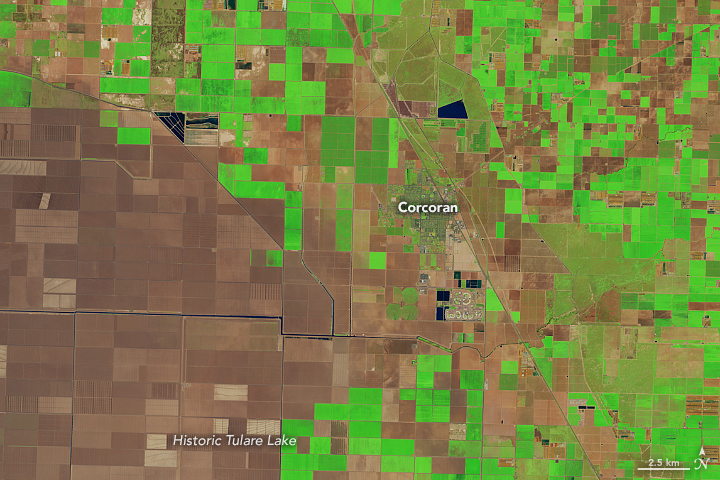 Flooding in the region may persist in the coming months as the snow melts from the Sierra Nevada.
On April 3, the California Department of Water Resources (DWR) reported that the statewide snowpack was 237% of the average for this date, among the largest ever recorded.
DWR warns that this year's snowpack size and distribution pose severe flood risks to some areas of the state, particularly the San Joaquin Valley.
References:
1 Worry and suspicion reign as once-dry Tulare Lake drowns California farmland – Los Angeles Times – March 24, 2023
2 Return of Tulare Lake – Earth Observatory – April 5, 2023
Featured image credit: Historic Tulare Lake on April 1, 2023. Credit: Copernicus EU/Sentinel-2, The Watchers
If you value what we do here, create your ad-free account and support our journalism.
---
Your support makes a difference
Dear valued reader,
We hope that our website has been a valuable resource for you.
The reality is that it takes a lot of time, effort, and resources to maintain and grow this website. We rely on the support of readers like you to keep providing high-quality content.
If you have found our website to be helpful, please consider making a contribution to help us continue to bring you the information you need. Your support means the world to us and helps us to keep doing what we love.
Support us by choosing your support level – Silver, Gold or Platinum. Other support options include Patreon pledges and sending us a one-off payment using PayPal.
Thank you for your consideration. Your support is greatly appreciated.
Sincerely,
Teo Blašković
---