Rosetta detects large amounts of pure oxygen emitting from Comet 67P
Researchers led by Andre Bieler from the University of Michigan have found a large amount of molecular oxygen (O2) is being released by the Comet 67P/Churyumov–Gerasimenko. Pure molecular oxygen is extremely rare in the universe and this discovery has extremely important implications in our understanding of the creation of the Solar System and the hunt for extraterrestrial life.
The Rosetta spacecraft has been following Comet 67P/Churyumov–Gerasimenko for over a year and has discovered that the comet is emitting a number of gases like water vapor, carbon monoxide, carbon dioxide, sulfuric and carbon compounds and even noble gases. However, what surprised the researchers was the large amount of pure molecular oxygen (O2) being emitted by the comet. Oxygen, being very reactive, is generally detected from comets in the form of compounds like water (H2O), carbon dioxide (CO2), carbon monoxide (CO) and even ozone (O3) but never as standalone oxygen (O2).
Rosetta's detection of molecular oxygen. Image credit: ESA
"We weren't really expecting to detect O2 at the comet – and in such high abundance – because it is so chemically reactive, so it was quite a surprise," says Kathrin Altwegg of the University of Bern, and principal investigator of the Rosetta Orbiter Spectrometer for Ion and Neutral Analysis instrument, ROSINA.
"It's also unanticipated because there aren't very many examples of the detection of interstellar O2. And thus, even though it must have been incorporated into the comet during its formation, this is not so easily explained by current Solar System formation models."
The group of researchers analyzed over 3 000 samples collected around the comet between September 2014 and March 2015 to arrive at this conclusion. They found that the level of pure molecular oxygen was strongly linked to the level of water.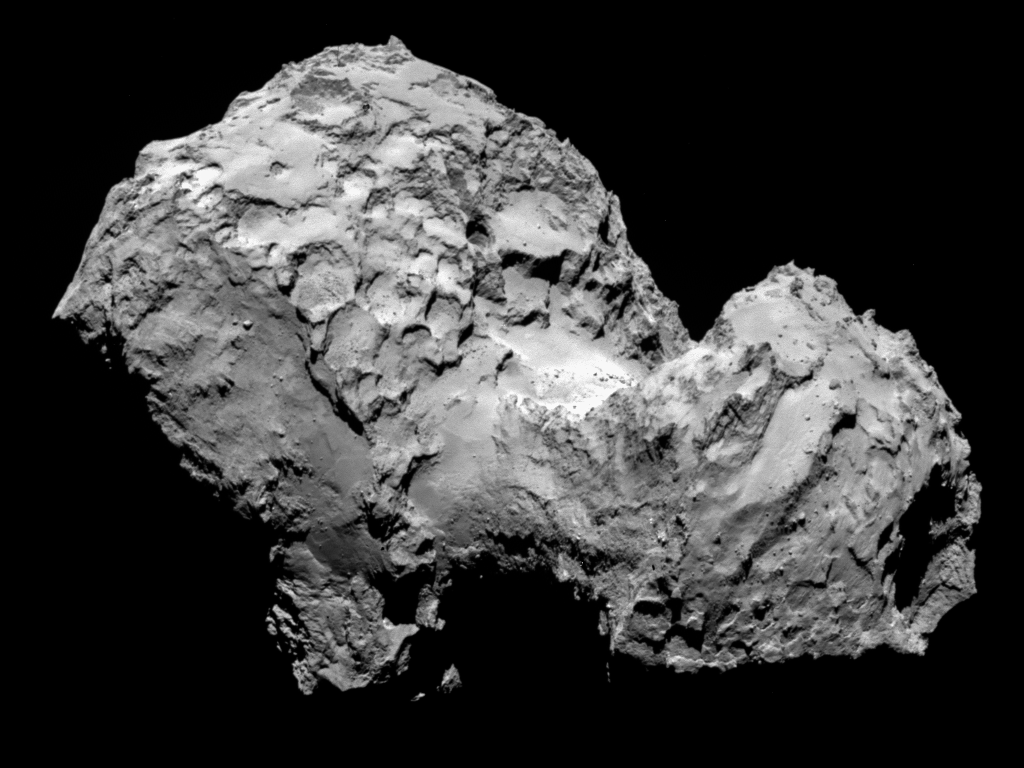 Comet 67P by Rosetta's OSIRIS narrow-angle camera on August 3, 2014. Image credit: ESA/Rosetta/MPS
Initially, the researchers assumed that the release of pure oxygen from the comet was solely due to the effect of the solar wind on the water present on the surface of the planet. However, after detailed analysis, they realized that the molecular oxygen to water ratio never decreased during the course of their study. According to lead author Andre Bieler, this could only be possible if the molecular oxygen in the gas cloud surrounding the comet was trapped during its formation and has remained there ever since.
"But if this was the primary source of the O2 then we would have expected to see a decrease in the O2/H2O ratio as this layer was removed during the six-month timespan of our observations," says Bieler.
"The instantaneous generation of O2 also seems unlikely, as that should lead to variable O2 ratios under different illumination conditions. Instead, it seems more likely that primordial O2 was somehow incorporated into the comet's ices during its formation, and is being released with the water vapor today."
Artist's impression of the Rosetta spacecraft. Image credit: ESA
For years, scientists have looked to the presence of pure molecular oxygen as one of the major indicators for the presence of extraterrestrial life. However, this discovery clearly demonstrates that it is not always the case and the mere presence of oxygen in the atmosphere of a planetary body would not automatically make it a candidate for bearing life.
This discovery also questions some of the current assumptions regarding the formation of our Solar System. "This is an intriguing result for studies both within and beyond the comet community, with possible implications for our models of Solar System evolution," says Matt Taylor, ESA's Rosetta project scientist.
Reference:
"Abundant molecular oxygen in the coma of comet 67P/Churyumov–Gerasimenko​" – A. Bieler et al. Nature 526, 678–681 doi:10.1038/nature15707
​​Featured image credit: ESA
If you value what we do here, create your ad-free account and support our journalism.
---
Your support makes a difference
Dear valued reader,
We hope that our website has been a valuable resource for you.
The reality is that it takes a lot of time, effort, and resources to maintain and grow this website. We rely on the support of readers like you to keep providing high-quality content.
If you have found our website to be helpful, please consider making a contribution to help us continue to bring you the information you need. Your support means the world to us and helps us to keep doing what we love.
Support us by choosing your support level – Silver, Gold or Platinum.
Other support options include Patreon pledges, one-off payments using PayPal and purchasing products from our webshop.
Thank you for your consideration. Your support is greatly appreciated.
Sincerely,
Teo Blašković
---