Approaching active sunspot region aiming Earth
A significant active region is set to emerge over the sun's northeastern limb. The underlying sunspots are not yet visible from Earth, but the region's towering magnetic canopy is already in view.
NASA's Solar Dynamics Observatory (SDO) took this picture during the early hours of Feb. 23rd: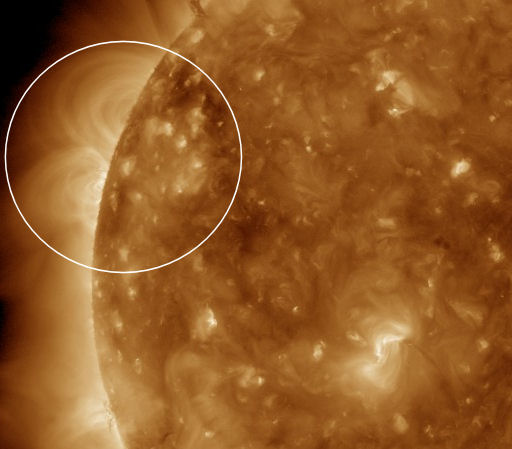 A better view is had by NASA's STEREO-B probe, stationed over the sun's eastern limb where it can see the region from top down. Recent movies beamed back by STEREO-B show flashes of extreme UV radiation and hints of magnetic instability. This could herald a period of renewed solar activity when the region turns toward Earth in the days ahead. Or the action could peter out beforehand. (SpaceWeather)
Current sun status:
X-ray Solar Flares
6-hr max: B4 1840 UT Feb23
24-hr: C1 1223 UT Feb23
Planetary K-index
Now: Kp= 0 quiet
24-hr max: Kp= 1 quiet
Interplanetary Mag. Field
Btotal: 4.1 nT
Bz: 0.6 nT north
If you value what we do here, create your ad-free account and support our journalism.
---
Your support makes a difference
Dear valued reader,
We hope that our website has been a valuable resource for you.
The reality is that it takes a lot of time, effort, and resources to maintain and grow this website. We rely on the support of readers like you to keep providing high-quality content.
If you have found our website to be helpful, please consider making a contribution to help us continue to bring you the information you need. Your support means the world to us and helps us to keep doing what we love.
Support us by choosing your support level – Silver, Gold or Platinum. Other support options include Patreon pledges and sending us a one-off payment using PayPal.
Thank you for your consideration. Your support is greatly appreciated.
Sincerely,
Teo Blašković
---