Two fissures continue to erupt at Kilauea's Halema'uma'u crater, Hawai'i
Two fissures continue to erupt lava into the growing lava lake in Kilauea's Halema'uma'u crater, as of 11:00 UTC on December 23, 2020. No activity outside of the crater has been observed. Gas emissions and seismic tremor remain elevated, with minor deflationary deformation.
Kīlauea continues to erupt at its summit from at least two vents on the north and west sides of Halema'uma'u since the eruption began early December 21 (UTC).
As of 21:51 UTC on December 22, the growing crater lake was 487 m (1 598 feet) below the crater rim, indicating that the lake has filled 134 m (440 feet) of the bottom of the Halema'uma'u crater. It was rising more than 1 m per hour (3 feet/h).
Summit tiltmeters continued to record slowing deflationary tilt on December 22. Sulfur dioxide emission rates remained high, estimated at around 30 000 tonnes/day.
As of late December 22 (UTC), a preliminary calculation of volume suggests that, since the start of the eruption, approximately 10 million cubic meters of lava have been erupted (equivalent to over 2 billion gallons). This is a surface area of about 13 ha (33 acres).
Hazard analysis
High levels of volcanic gas, rockfalls, explosions, and volcanic glass particles are the primary hazards of concern regarding this new activity at Kīlauea's summit, the Hawaiian Volcano Observatory (HVO) said.
Large amounts of volcanic gas—primarily water vapor (H2O), carbon dioxide (CO2), and sulfur dioxide (SO2) – are continuously released during eruptions of Kīlauea Volcano.
As SO2 is released from the summit during this new eruption, it will react in the atmosphere with oxygen, sunlight, moisture, and other gases and particles, and within hours to days, convert to fine particles.
The particles scatter sunlight and cause the visible haze that has been observed downwind of Kīlauea, known as vog (volcanic smog), during previous summit eruptions. Vog creates the potential for airborne health hazards to residents and visitors, damages agricultural crops and other plants, and affects livestock operations.
Rockfalls and minor explosions, such as the ones that occurred during the 2008–2018 lava lake eruption at Kīlauea summit, may occur suddenly and without warning. This underscores the extremely hazardous nature of Kīlauea caldera rim surrounding the Halema'uma'u crater, an area that has been closed to the public since late 2007.
Pele's hair and other lightweight volcanic glass fragments from the lava fountains within Halema'uma'u will fall downwind of the fissure vents and lava lake, dusting the ground within a few hundred meters of the vent.
High winds may waft lighter particles to greater distances. Residents are urged to minimize exposure to these volcanic particles, which can cause skin and eye irritation similar to volcanic ash.
Image credit: USGS/HVO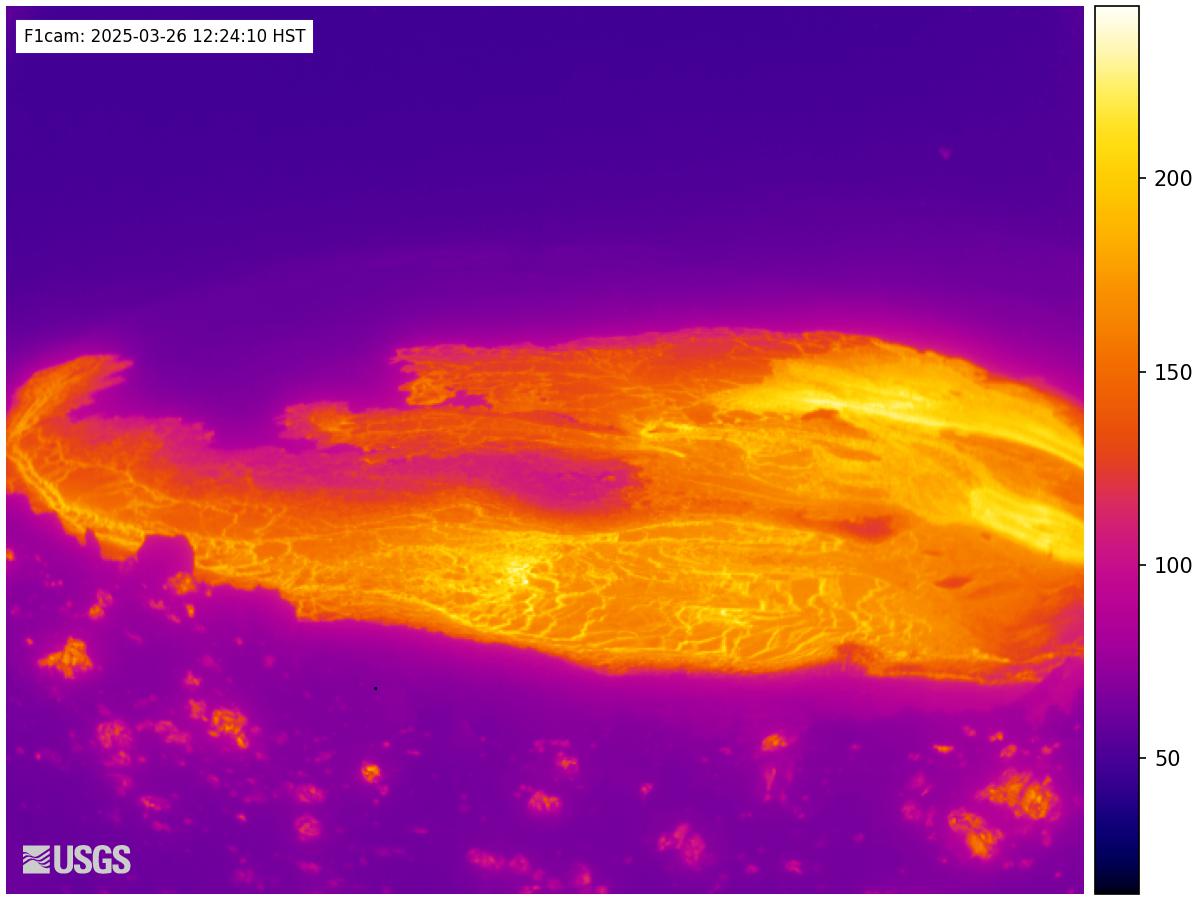 Halemaʻumaʻu and water lake – thermal image [F1cam] – LIVE view from the west rim of the new summit collapse features. Credit: USGS/HVO
Geological summary
Kilauea volcano, which overlaps the east flank of the massive Mauna Loa shield volcano, has been Hawaii's most active volcano during historical time.
Eruptions of Kilauea are prominent in Polynesian legends; written documentation extending back to only 1820 records frequent summit and flank lava flow eruptions that were interspersed with periods of long-term lava lake activity that lasted until 1924 at Halemaumau crater, within the summit caldera.
The 3 x 5 km (1.9 x 3.1 miles) caldera was formed in several stages about 1500 years ago and during the 18th century; eruptions have also originated from the lengthy East and SW rift zones, which extend to the sea on both sides of the volcano.
About 90% of the surface of the basaltic shield volcano is formed of lava flows less than about 1 100 years old; 70% of the volcano's surface is younger than 600 years.
A long-term eruption from the East rift zone that began in 1983 has produced lava flows covering more than 100 sq km (37 sq miles), destroying nearly 200 houses and adding new coastline to the island. (GVP)
Featured image credit: USGS/HVO
If you value what we do here, create your ad-free account and support our journalism.
Related articles
---
Your support makes a difference
Dear valued reader,
We hope that our website has been a valuable resource for you.
The reality is that it takes a lot of time, effort, and resources to maintain and grow this website. We rely on the support of readers like you to keep providing high-quality content.
If you have found our website to be helpful, please consider making a contribution to help us continue to bring you the information you need. Your support means the world to us and helps us to keep doing what we love.
Support us by choosing your support level – Silver, Gold or Platinum. Other support options include Patreon pledges and sending us a one-off payment using PayPal.
Thank you for your consideration. Your support is greatly appreciated.
Sincerely,
Teo Blašković
---