Amazing B-class solar flare
B-class eruptions are weak and generally not considered spectacular, but the one recorded by NASA's Solar Dynamics Observatory (SDO) on April 23rd was quite different: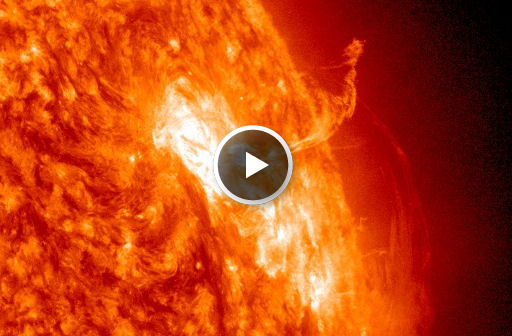 The blast hurled hundreds of thousands of tons of plasma above the stellar surface with a power akin to millions of atomic bombs. The only thing more amazing than the blast was its aftermath. For all that power, the explosion was insufficient to break the plasma free from the sun's grasp. Magnetic fields arcing above underlying sunspot 1193 held tight to the expanding gas and pulled it back down with a dynamic double bounce.
One of the most significant findings from SDO, barely a year after First Light, is that there are no truly boring solar flares. The observatory's Hubble-like cameras have revealed hidden power and fascination in even the smallest eruptions, leaving us waiting with anticipation for the next B-flare.
Source: SpaceWeather
If you value what we do here, create your ad-free account and support our journalism.
Producing content you read on this website takes a lot of time, effort, and hard work. If you value what we do here, select the level of your support and register your account.
Your support makes this project fully self-sustainable and keeps us independent and focused on the content we love to create and share.
All our supporters can browse the website without ads, allowing much faster speeds and a clean interface. Your comments will be instantly approved and you'll have a direct line of communication with us from within your account dashboard. You can suggest new features and apps and you'll be able to use them before they go live.
You can choose the level of your support.
Stay kind, vigilant and ready!
You can also support us by sending us a one-off payment using PayPal: