No response from Russian Phobos-Grunt spacecraft
The European Space Agency will once again attempt to call the Russian Phobos-Grunt spacecraft tonight (Nov. 29), after officials received no response yesterday. The probe has been stranded in the wrong orbit since it was launched on November 8.
A ground station in Australia had picked up signals from the stranded probe on Nov. 22 but since then all efforts to call the spacecraft have failed. According to Ria Novosti some data had come in from ground station in Perth to a Russian station in Baikonour, Kazakhstan that indicated the spacecraft's radio equipment was operational. But the window of opportunity for the probe to reach the Martian moon may have closed already, since the journey requires Earth and Mars to be properly aligned. And if Phobos-Grunt cannot be saved, early estimates suggest the spacecraft could fall back to Earth around mid-January.
Four Russian major mission lost in one year
Russia has lost four major missions in last 12 months on top of the aerospace industry's failure to produce its planned number of spacecraft.
In December 2010, a Proton-M booster failed to put three Glonass-M satellites in orbit. These were meant to enhance Russia's Global Navigation Satellite System, the Russian counterpart to America's GPS system. Russia successfully launched replacements recently.
In February, a Rokot booster carrying the Geo-IK-2 satellite ended in failure. The satellite was designed to build on Russia's geodesic research. It would help scientists to take accurate measurements of the Earth's shape and the properties of its gravitational field acting as a precise reference point and support such fields as cartography, missile guidance, study of tectonic plate movements, ocean tides, and ice conditions. Roscosmos's chief, Anatoly Perminov, was forced to resign.
In August, another Proton-M rocket failed to launch an Ekspress-AM4. The communications satellite was designed to provide digital television and secure government communications throughout the Russian Federation extending far into Siberia and the Far East.
Only a week after a Soyuz-U booster failed.  Progress M-12 expendable cargo spacecraft aboard  never reached the  International Space Stationc and its crew waiting for its contents.
The Phobos-Grunt mission lifted off Nov. 8 on a mission to collect samples from the Mars moon Phobos, but a malfunction with the spacecraft's thrusters left it stranded in Earth orbit, rather than accelerating on toward the Red Planet. Phobos-Grunt was launched aboard a Russian Zenit rocket, but once in orbit, the spacecraft's propulsion system failed to fire in the maneuver that would have sent it on its way to Mars.  (UniverseToday/RIA)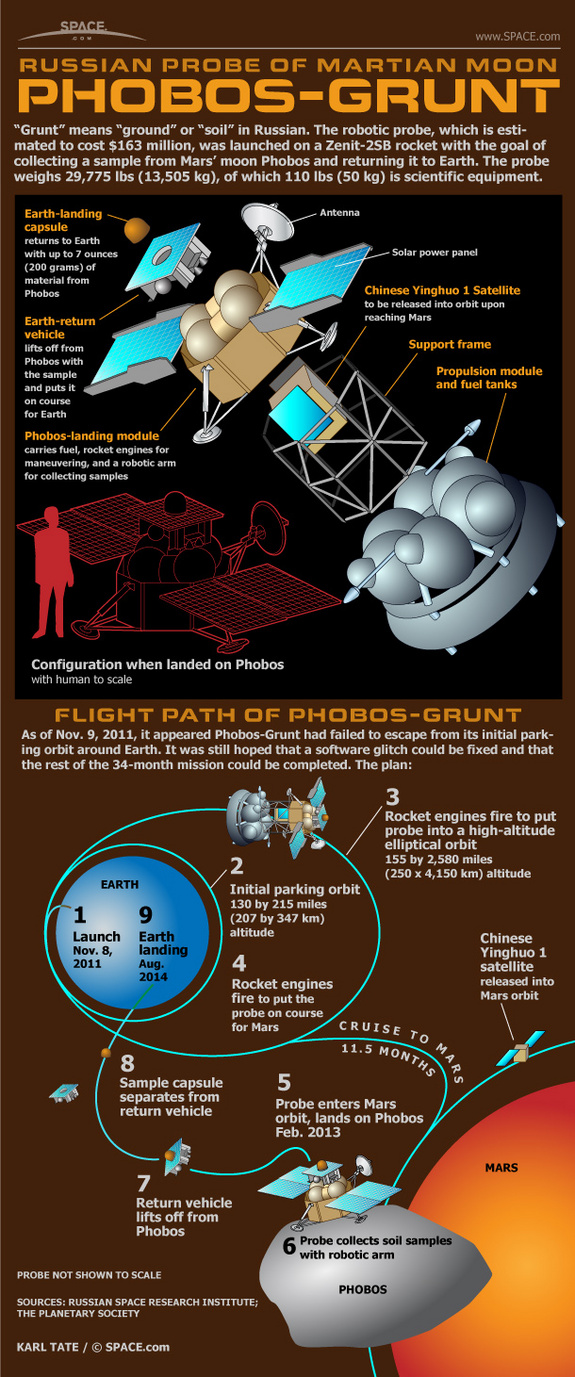 Source: SPACE.com: All about our solar system, outer space and exploration
If you value what we do here, create your ad-free account and support our journalism.