Sundiving comet and coronal mass ejection
A comet dove into the sun on May 11th and seemed to trigger a massive eruption. Watch the movie, then scroll down for further discussion.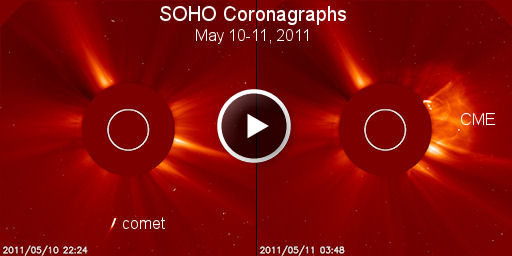 A comet goes in; a CME comes out. Coincidence? Probably, yes, the sequence was coincidental. The comet disintegrated as much as a million kilometers above the stellar surface. There's no known way that the wispy, vaporous remains of a relatively lightweight comet could cause a billion-ton cloud of hot plasma to fly away from the sun at 400 km/s (the observed speed of the CME). Moreover, NASA's Solar Dynamics Observatory photographed the eruption that did propel the CME into space. There's no comet in the field of view of this must-see movie.
If you value what we do here, open your ad-free account and support our journalism.
Related articles
Producing content you read on this website takes a lot of time, effort, and hard work. If you value what we do here, select the level of your support and register your account.
Your support makes this project fully self-sustainable and keeps us independent and focused on the content we love to create and share.
All our supporters can browse the website without ads, allowing much faster speeds and a clean interface. Your comments will be instantly approved and you'll have a direct line of communication with us from within your account dashboard. You can suggest new features and apps and you'll be able to use them before they go live.
You can choose the level of your support.
Stay kind, vigilant and ready!
You can also support us by sending us a one-off payment using PayPal: