Study of gamma ray burst may change our understanding of how stars are formed
A group of researchers observing a specific gamma ray burst (GRB) have found that its probable host galaxy is almost entirely deficient in molecular gas. Molecular gas has long been considered to be the main raw material used in the formation of stars. The current discovery has prompted scientists to take a re-look at our understanding of the star formation process.
The researchers now believe that under certain conditions, atomic gas – a type of gas found in large quantities in the space between galaxies, may play a prominent role in the process of star formation. Molecular gas is made up of bound hydrogen atoms and is present in the densest parts of most galaxies. This is the region where most stars and planets are generally concentrated. Atomic gas, on the other hand, is made up of singular hydrogen atoms and is found in the void which separates galaxies. This region of space is generally completely empty and it does not bear any stars or planets.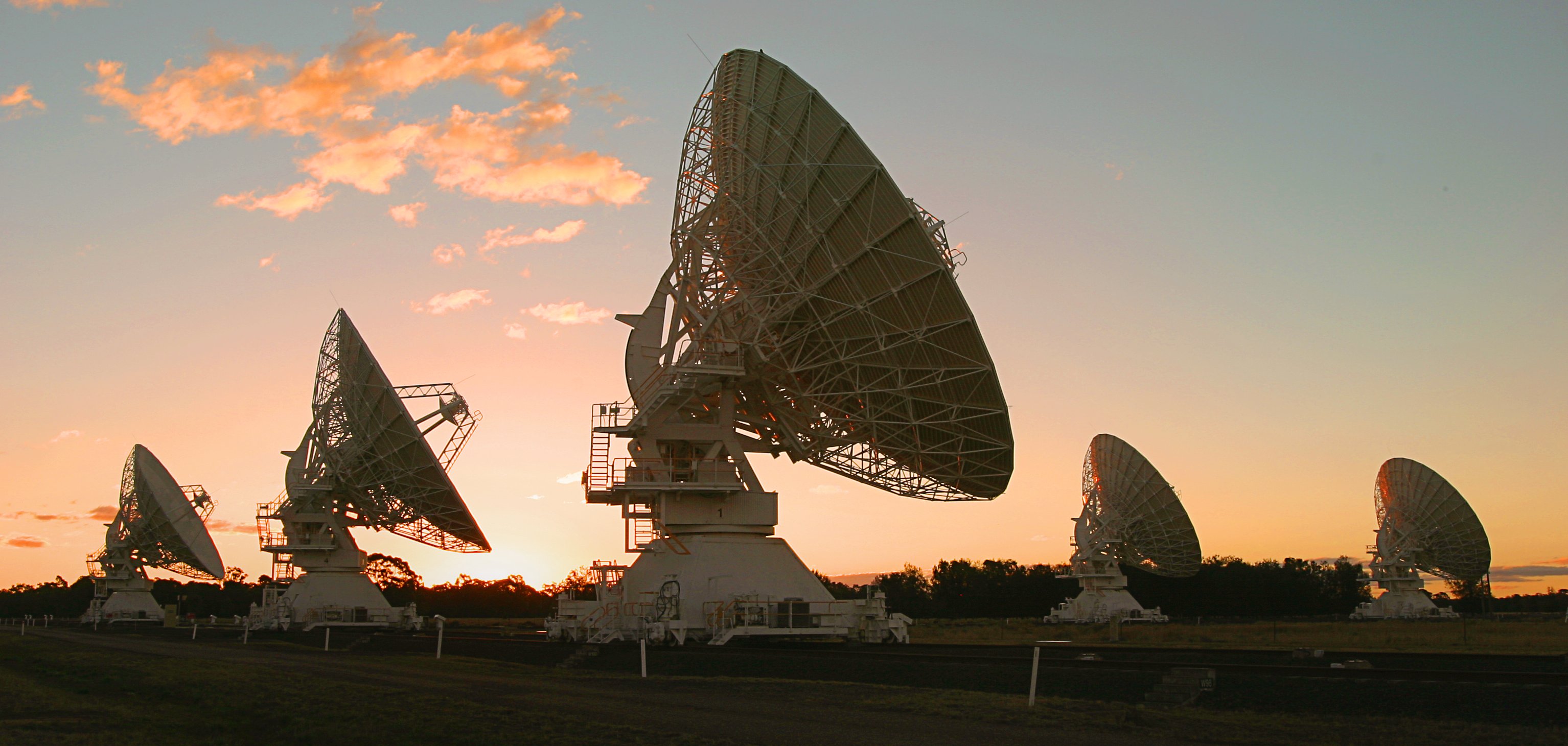 The Australia Telescope Compact Array (ATCA), at the Paul Wild Observatory located in NSW, Australia is an array of six 22-m antennas used for radio astronomy. Image credit: Australia Telescope National Facility
The group of researchers is led by Dr Michal Michalowski, of the University of Edinburgh's School of Physics and Astronomy. Their study, published in the journal, Astronomy & Astrophysics on October 30, 2015, offers strong evidence that atomic gas can independently lead to star formation. This happens when atomic gas flows into a particular galaxy but does not have the time to transform into molecular gas.
The discovery was made while studying a specific gamma ray burst named GRB 100628A. The researchers found that the probable host galaxy for GRB 100628A was largely deficient in molecular gas. The researchers then used a powerful radio telescope (ATCA) to measure the level of atomic gas present in the host galaxy. To their surprise, the researchers found extremely large amounts of atomic gas which were closely positioned to the gamma ray burst in question. This led the researchers to a conclusion that atomic gas may uniquely act as a raw material for the birth of stars.
The 2.2m telescope at La Silla used for the current discovery. Image credit: European Southern Observatory (ESO)
Scientists now believe that the process of star formation is quite similar, regardless of the gas used as a raw material. In any case, the gas molecules are destroyed very quickly during the birth of stars and have little or no bearing on the end result.
Dr Michal Michalowski, of the University of Edinburgh's School of Physics and Astronomy, who led the study, said: "We were analyzing the atomic gas data for these galaxies when the results about their molecular gas deficiency were announced. We pieced together all the information, and found that stars may in fact form out of atomic gas, which was previously believed to be impossible."
For this study, Dr Michalowski's team utilized the multi-colour imager GROND at the ESO/La Silla MPG 2.2 m telescope, ESO/VLT spectroscopy, and deep Australia Telescope Compact Array (ATCA) radio-continuum observations together with publicly available Gemini imaging data.
Reference​s:
"Identifying the host galaxy of the short GRB 100628A", M. J. Michałowski et. al. Astronomy & Astrophysics, Volume 583, November 2015. doi:10.1051/0004-6361/201425160​
Featured image:This is the "South Pillar" region of the star-forming region called the Carina Nebula. Like cracking open a watermelon and finding its seeds, the infrared telescope "busted open" this murky cloud to reveal star embryos tucked inside finger-like pillars of thick dust. Credit: NASA
If you value what we do here, create your ad-free account and support our journalism.
---
Your support makes a difference
Dear valued reader,
We hope that our website has been a valuable resource for you.
The reality is that it takes a lot of time, effort, and resources to maintain and grow this website. We rely on the support of readers like you to keep providing high-quality content.
If you have found our website to be helpful, please consider making a contribution to help us continue to bring you the information you need. Your support means the world to us and helps us to keep doing what we love.
Support us by choosing your support level – Silver, Gold or Platinum.
Other support options include Patreon pledges, one-off payments using PayPal and purchasing products from our webshop.
Thank you for your consideration. Your support is greatly appreciated.
Sincerely,
Teo Blašković
---