Launch of IRIS solar mission rescheduled to June 27, 2013
The launch of NASA's Interface Region Imaging Spectrograph (IRIS) mission is being delayed to June 27, 2013 from Vandenberg Air Force Base in California. Live NASA Television launch coverage begins at 13:00 UTC (6 p.m. PDT).
Because of a significant power outage at Vandenberg earlier this week, certain Western Range facilities will not be ready to support the original June 26 launch date. Range officials believe they will be able to restore power to the affected facilities in time to support a launch on Thursday evening. Managers will assess the situation at the Launch Readiness Review Wednesday.
The launch of IRIS on an Orbital Sciences Corporation Pegasus XL rocket is targeted for the middle of a five-minute window. The drop of the air-launched Pegasus from Orbital's L-1011 carrier aircraft will occur over the Pacific Ocean at an altitude of 39,000 feet, about 100 miles northwest of Vandenberg off the central coast of California, south of Big Sur. The Pegasus will be deployed from the L-1011 on a southerly launch azimuth of 198.6 degrees. The rocket will place IRIS into a sun-synchronous polar orbit of 387.5 by 418.7 miles (620 by 670 km) at an inclination of 97.89 degrees.
IRIS is a NASA Small Explorer Mission to observe how solar material moves, gathers energy and heats up as it travels through a little-understood region in the Sun's lower atmosphere. This interface region between the Sun's photosphere and corona powers its dynamic million-degree atmosphere and drives the solar wind. The interface region also is where most of the Sun's ultraviolet emission is generated that impacts the near-Earth space environment and Earth's climate.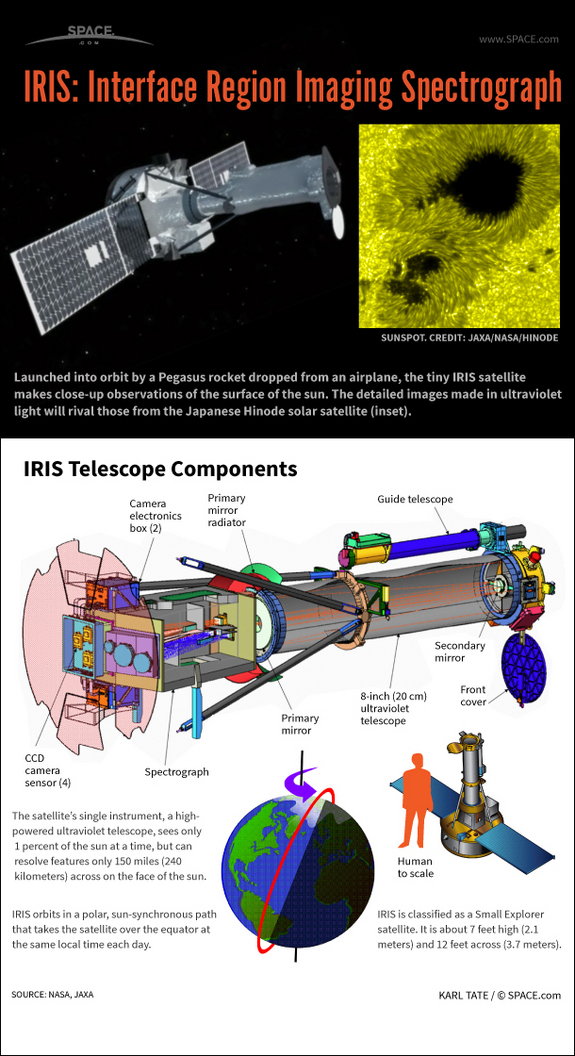 SPACE.com: All about our solar system, outer space and exploration
Source: NASA
If you value what we do here, open your ad-free account and support our journalism.
Producing content you read on this website takes a lot of time, effort, and hard work. If you value what we do here, select the level of your support and register your account.
Your support makes this project fully self-sustainable and keeps us independent and focused on the content we love to create and share.
All our supporters can browse the website without ads, allowing much faster speeds and a clean interface. Your comments will be instantly approved and you'll have a direct line of communication with us from within your account dashboard. You can suggest new features and apps and you'll be able to use them before they go live.
You can choose the level of your support.
Stay kind, vigilant and ready!
You can also support us by sending us a one-off payment using PayPal: