Earth's Moon Phases, Monthly Lunar Cycles (Infographic)
See how the phases of Earth's moon work, from the full moon to the new moon and everything in between in this SPACE.com infographic. The moon is illuminated by light from the sun, which observers on Earth see reflected off the lunar surface. As the moon moves around Earth, the amount of illumination it receives from the sun changes, creating the lunar phases. The moon completes a single lunar cycle in about one month.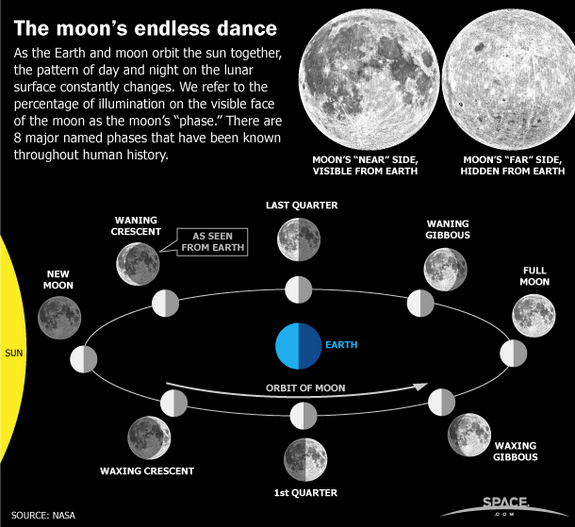 Source Space.com: All about our solar system, outer space and exploration
If you value what we do here, create your ad-free account and support our journalism.
Producing content you read on this website takes a lot of time, effort, and hard work. If you value what we do here, select the level of your support and register your account.
Your support makes this project fully self-sustainable and keeps us independent and focused on the content we love to create and share.
All our supporters can browse the website without ads, allowing much faster speeds and a clean interface. Your comments will be instantly approved and you'll have a direct line of communication with us from within your account dashboard. You can suggest new features and apps and you'll be able to use them before they go live.
You can choose the level of your support.
Stay kind, vigilant and ready!
You can also support us by sending us a one-off payment using PayPal: