Earth's Moon Phases, Monthly Lunar Cycles (Infographic)
See how the phases of Earth's moon work, from the full moon to the new moon and everything in between in this SPACE.com infographic. The moon is illuminated by light from the sun, which observers on Earth see reflected off the lunar surface. As the moon moves around Earth, the amount of illumination it receives from the sun changes, creating the lunar phases. The moon completes a single lunar cycle in about one month.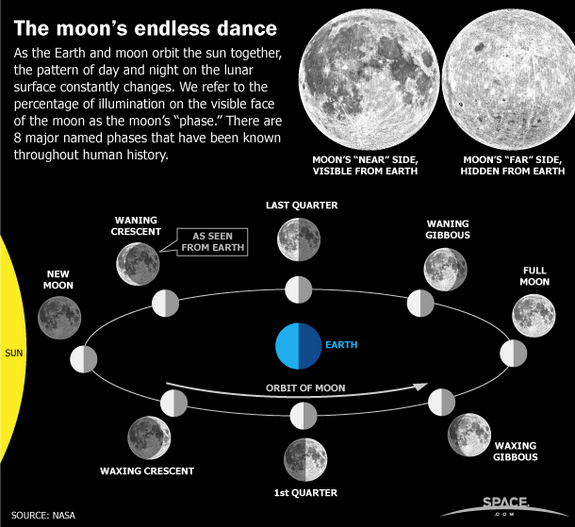 Source Space.com: All about our solar system, outer space and exploration
If you value what we do here, create your ad-free account and support our journalism.
---
Your support makes a difference
Dear valued reader,
We hope that our website has been a valuable resource for you.
The reality is that it takes a lot of time, effort, and resources to maintain and grow this website. We rely on the support of readers like you to keep providing high-quality content.
If you have found our website to be helpful, please consider making a contribution to help us continue to bring you the information you need. Your support means the world to us and helps us to keep doing what we love.
Support us by choosing your support level – Silver, Gold or Platinum.
Other support options include Patreon pledges, one-off payments using PayPal and purchasing products from our webshop.
Thank you for your consideration. Your support is greatly appreciated.
Sincerely,
Teo Blašković
---