Russian space officials estimate that Phobos-Grunt will fall to Earth on Jan. 15
Russian space officials now estimate that Phobos-Grunt will fall to Earth on Jan. 15, though the date could change "due to external factors. The probe will re-enter somewhere between 51 degrees north and 51 degress south latitude; the exact location won't be known until the time of re-entry is pinpointed.
A French skywatcher has recorded what is likely one of the last videos of the falling Phobos-Grunt space probe.
This video of Phobos-Grunt was taken by Thierry Legault and Emmanuel Rietsch from the Calern plateau Observatory (above Nice, French Riviera) on January 1
st
 2012, during a zenithal passage (culmination at 88.5° of altitude at 6:17:24 UTC, direction NNE), moving at speed of 7.75km/sec, 237 km high from the ground. The spacecraft may crash back to Earth on January 15th.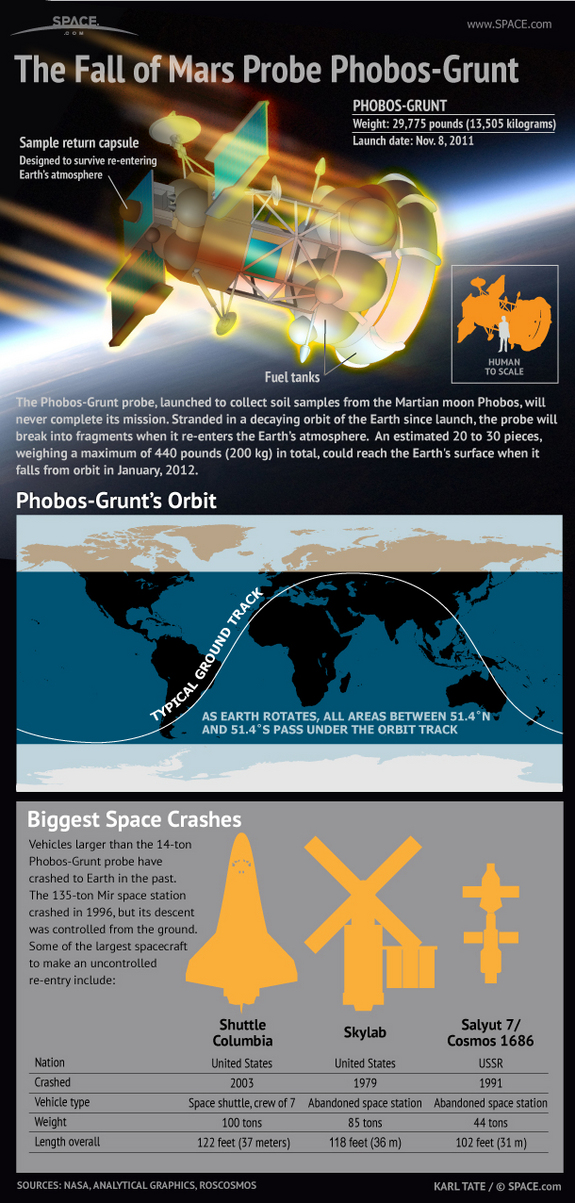 (Source:LiveScience)
SPACE.com
is providing full coverage of Phobos-Grunt's re-entry, including a look at the issues surrounding orbital debris and space situational awareness.
Featured Image courtesy of Russian Space Agency
If you value what we do here, create your ad-free account and support our journalism.
Related articles
Remnants of Chinese Chang Zheng 2F rocket re-enter the atmosphere over the Mediterranean Sea Tuesday, June 21, 2022
Producing content you read on this website takes a lot of time, effort, and hard work. If you value what we do here, select the level of your support and register your account.
Your support makes this project fully self-sustainable and keeps us independent and focused on the content we love to create and share.
All our supporters can browse the website without ads, allowing much faster speeds and a clean interface. Your comments will be instantly approved and you'll have a direct line of communication with us from within your account dashboard. You can suggest new features and apps and you'll be able to use them before they go live.
You can choose the level of your support.
Stay kind, vigilant and ready!
You can also support us by sending us a one-off payment using PayPal: